March 30, 2021
Spotify Plans to Recommend Music Based On Emotion And Speech Of Users?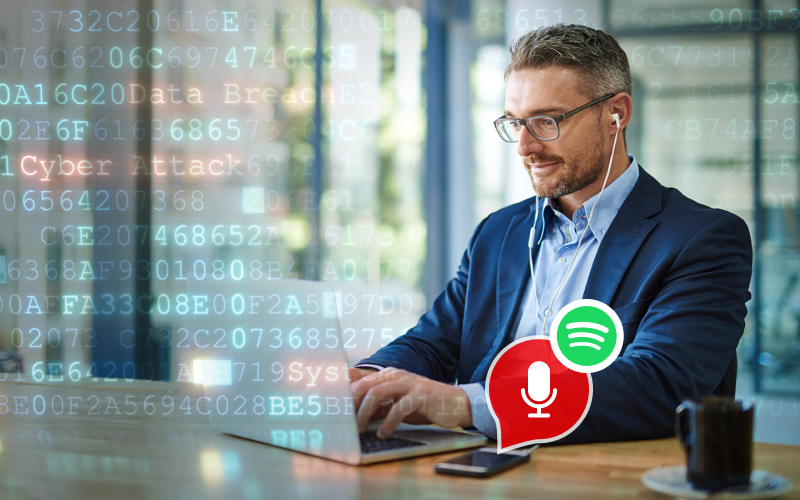 Looks like more and more services are looking to monetize our moods.
In case you missed it, a popular music streaming platform Spotify has patented a technology that would interpret your speech and background noise. That would inform the service what emotions you experience and what music you would be more receptive to, ideally.
The patent was filed in February 2018, but was only granted this January.
Yes, in 2021 our apps can go on to incorporate emotion recognition to deliver the best service, and it starts to become increasingly creepy and weird. Does Spotify really need to leverage so much personal information to know how to serve music better to its 345 million army of monthly active users?
Let's discuss this in more detail now.
No Need To Panic Just Yet
Spotify already has tons of data on the mood, taste, and preferences of its user base. It's not like they are starting to look for such information only now, they just want more of it.
The only significant change from what they collect now is centered around speech recognition. It could help Spotify to determine the age, accent, and gender of the user, as well as to detect the speaker's emotional state based on rhythm, intonation, tension of the voice.
If they are really trying to suggest music based on the accent of a person, this could backfire bigtime and get the company some bad PR. But it's too early to speculate, so let's turn our attention to what we know from the document.
One of the more curious features brought in by this invention is the ability for Spotify to adjust music delivery depending on different locations of the listener. As multiple articles claim, Spotify could play music reflecting not only the mood of the users, but also their social setting.
The app would know if you're alone, in a small group, or at a party.
Judging from the patent itself, the app could distinguish your locations between public transport like buses, underground trains, and recognize a difference between you being outdoors, at school, noisy park, cozy coffee shop, you name it.
The possibilities are almost endless. Here's a slightly worrying sentence from the document:
"It should be understood that the above example metadata categories of emotions, gender, age and accent are merely examples, and numerous other characterizations and classifications can be used."
Overall, Spotify staff is extremely skillful and knowledgeable when it comes to user profiling, as can be seen in their research paper "Just The Way You Are". The study looks to correlate user personality and musical tastes.
Because of this deep understanding and research capabilities, Spotify is regarded as one of the better recommendation engines around.
Spotify Also Aces The Patent Game
Let's come back to the news on the patent, it's imperial that we understand how and why they are issued.
Oftentimes, companies come up with patents without any real intention of using them, just leaving themselves in a favorable position if such a technology would be used elsewhere. Patents are filed not only to license the tech, but also to create an easy revenue opportunity.
This is not the only idea marked up by Spotify.
In September they patented a karaoke feature that would allow users to overlay a track with their own vocals. Then there was an idea for a media content selection engine that would match the music tempo to your running speed. So many interesting ideas, and so many potential privacy-damaging implications...
"Spotify has filed patent applications for hundreds of inventions, and we regularly file new applications. Some of these patents become part of future products, while others don't. Our ambition is to create the best audio experience out there, but we don't have any news to share at this time."
I think that this kind of feature should have an "opt-in" introduction (if ever introduced), so the users could manage their levels of privacy as they would see fit, like they do with in-app permissions now.
Not Everyone Likes Spotify, Even Without Invasive Features
We have already established that Spotify is a big patent player, but what about the current state of affairs? If we listen to the people, the reviews on Spotify's recommendation mechanism are mixed.
Some think that the platform does a remarkable job and opens a lot of new artists to the masses, while others complain about how Spotify plays them the same songs over and over again, or suggests something that does not match their tastes at all. I think that the algorithms do their work well, and get better the more music you add to your favorites.
In any case, people from both camps are not too thrilled about the news. Most have brought up the point about not wanting to be treated like a product if they already pay for the service. Unfortunately, this is a broken line of thinking and one of those security cliches that only tell one part of the story.
We all pay for tons of services that sell our data regardless of our subscription tier, or devices that gather tons of personal info on us 24/7. The best example is our smartphones and how much they tell about us. We paid for them, but they still mine our data and help track us.
We're the product regardless of paying.
Freedom, Security, Convenience - Choose Two
Convenience that Spotify brings will always win over local media files that you have to refresh and sort out yourself.
Not a lot of people nowadays can be asked to manage their music manually, and stuff their 128GB memory cards with all the discographies they can get their hands on. Of course, this way you could also listen to music anywhere, with no Internet connection, for free. But if we talk about security, we must admit that streaming music is much safer than downloading it from the Internet.
If you want to take advantage of music streaming in 2021 without sacrificing any bits of your privacy, there are still a lot of alternatives. This post is not designed to bash Spotify, but rather warn you about the length successful companies would go to so they could get better.
Even if you don't plan on using any of the aforementioned products or services, it helps you understand where we are moving as a society.To end this post, I can only take on the role of Spotify myself, and recommend you a pretty obscure song. It's really good!